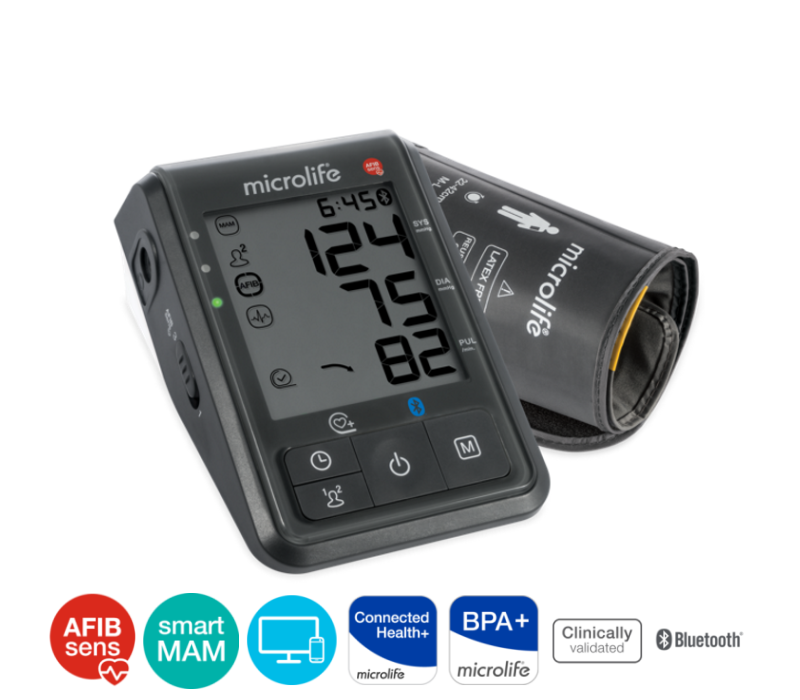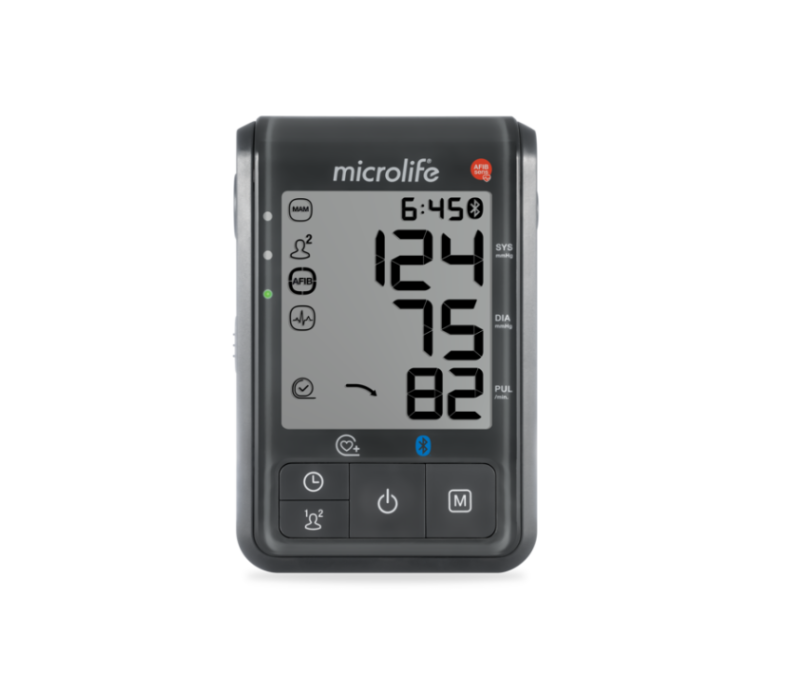 MICROLIFE BP B6 CONNECT Bluetooth® Blood Pressure Monitor with stroke risk detection
Availability: In Stock
Brand:

Microlife

Product Code:

BP B6 Advanced Connect
Atrial fibrillation (AF) causes high risk of stroke. It leads to a 5-fold higher risk of stroke and is responsible for 20% of all strokes. Many people have no symptoms from AF and therefore remain undiagnosed.

BP B6 Connect is the premier blood pressure monitor for your health. This sophisticated monitor offers more than anything else: It detects atrial fibrillation with high accuracy during blood pressure measurement, which already has been successfully clinically tested on more than 10,000 patients.
In addition to the LED traffic light for blood pressure classification at the edge of the display, an arrow shows after each measurement, if the most recent measurement is above or below the average of previous blood pressure measurements. For those who want to learn even more about their blood pressure, BP B6 Connect is the perfect choice: all readings can be fully analyzed on the smartphone using the Microlife Connected Health app or on the PC using the BP Analyzer+ software.
Patented Unique AFIB technology :
High accuracy in Atrial Fibrillation (AF) detection for stroke prevention
Patented PAD technology :
Early alerts to possible heart arrhythmias
Patented SmartMAM Average :
SmartMAM is an evolution of Microlife intelligent MAM technology with faster consecutive measurements for accurate averaged readings. The 3rd measurement will still be taken when irregular pulse detected or the results between 1st and 2nd measurements are not sufficiently consistent
Microlife Connected Health+ :
PC connection with BP Analyzer software included, USB cable and App for smartphone using Bluetooth®
Suitable for two users :
With 2 x 99 data memory and average display of all stored measurements
Traffic light indicator :
Easy to read classification of blood pressure result
Clinically Tested :
British Hypertension Society (BHS) Validation with the highest possible grade of A/A
Battery indicator :
Low battery indicator will flash when the amount of battery is low
Extra large LCD display :
Extra large screen display is perfect for elderly users
Average measurements :
Average of stored measurements of the last 28 days
Product Warranty:
2 years after purchase