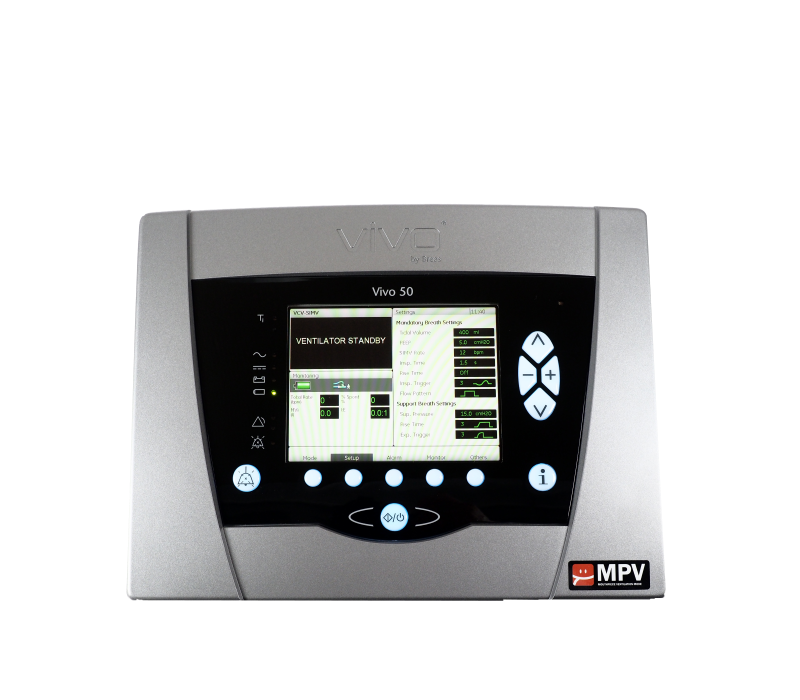 BREAS Vivo 50 Ventilator
Availability: Pre-Order
Brand:

Breas

Product Code:

Vivo 50
Vivo 50 offers the possibility to pre-set up to three ventilation profiles. Thanks to the user-friendly configuration of pressure and volume regulated modes, the treatment can be personalised to the patient's needs. High flexibility of operation is provided by the multiple types of circuits for both invasive and non-invasive ventilation.
Key Features :
Freedom of operation thanks to a 4 hour internal battery and the option of an additional 8 hours from the click-on battery
The FiO2, SpO2 and CO2 sensors give the unit high-end monitoring capabilities with on-screen values and alarms
Appropriate for invasive and non-invasive use
Full monitoring allows view of waveforms, numerical data and trend monitoring
Product Specification :
Operating Pressure Range:
- IPAP 4-50cmH2O; - CPAP 4-20cmH2O
Low noise: 30dBA
Power Supply: 100-240V
Nominal Dimensions: 34.8 x 12.0 x 26.4 cm
Weight: 5.2 kg
Country of Origin: Sewden
Accessories and Product Warranty :
Standard masks and accessories are included. If you need other accessories, please contact us before you purchase.
2 years warranty after purchase. We warrant the product to be free from defects in materials and workmanship in the first year after purchase when used normally, but maintenance costs will be calculated separately in the second year.
All accessories are consumables, and not including maintenance.
A free of charge Oximetry Test Report will be provided once a year.