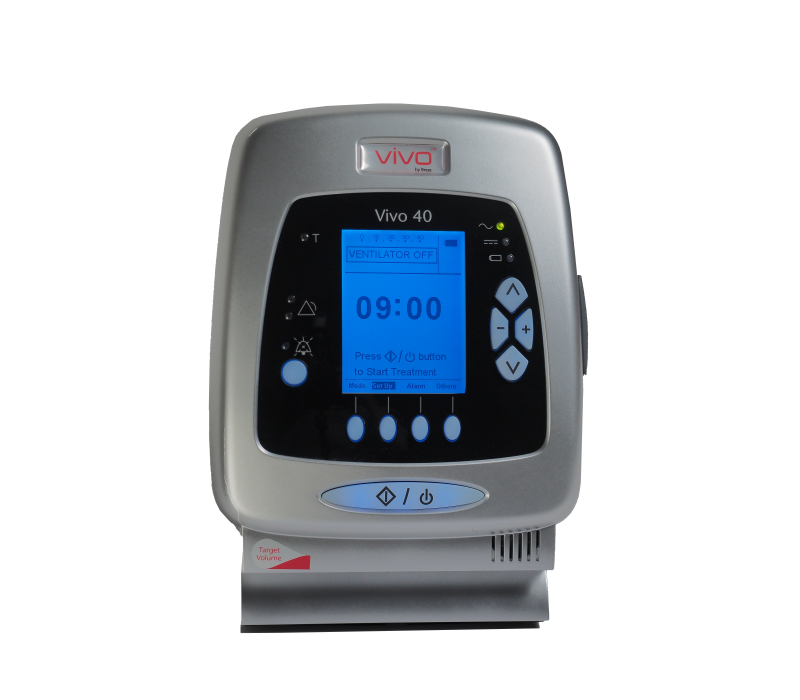 BREAS Vivo 40 (PSV)
Availability: Pre-Order
Brand:

Breas

Product Code:

Vivo 40
The Vivo 40 provides both invasive and non-invasive support in PSV, PCV and CPAP mode. The adult and pediatric modes allow Vivo 40 to be used by a wide range of patients. Thanks to eSync*, the highly responsive trigger technology, the Vivo 40 synchronizes smoothly with the patient's breathing effort, leading to lower the work of breathing and higher the level of comfort.
Key Features :
For paedriatic (>10 kg) and adult use
Target Volume stabilizes tidal volume delivery
Appropriate for invasive and non-invasive use
eSync* feature for synchronized breath delivery
Internal 3-hour battery
Integrated Heated Humidifier
Product Specification :
Operating Pressure Range:
- IPAP 4 to 40cmH2O; - EPAP 2-20cmH2O; - CPAP 4-20cmH2O
Low noise: 30dBA
Power Supply: 100-240V
Nominal Dimensions: 19.0 x 24.3 x 22.3 cm
Weight: 4 kg
Country of Origin: Sewden
Accessories and Product Warranty :
Standard masks and accessories are included. If you need other accessories, please contact us before you purchase.
2 years warranty after purchase. We warrant the product to be free from defects in materials and workmanship in the first year after purchase when used normally, but maintenance costs will be calculated separately in the second year.
All accessories are consumables, and not including maintenance.
A free of charge Oximetry Test Report will be provided once a year.